In the past, mechanical systems were build and painted, and the controls were added as an afterthought. Design errors and requirement misses all attributed to longer development times and costs.
For a lot of today's mechatronics products, such as sequential approach, is simply not possible anymore. Certain product performances – be it the driving stability of a modern passenger car, or the energy consumption of an air conditioning system – can only be achieved by digital control systems.
Therefore, development engineers are moving to a model-based design approach where tradeoffs between the system design and the control are evaluated during the system design phase, which enables systems to be produced that are cost, weight, performance, and endurance optimized.
Following this approach one has to solve three major tasks:
Modeling the plant i.e. the system to be controlled
Designing the controller and simulating the closed-loop system
Implementing the controller on the target hardware
While there is a wide agreement to use a block diagram approach for the first two tasks, there is still some reservation to use an automated procedure to turn the control diagrams into code executable on the target system.
Arguments brought forward are:
Auto generated code isn't fast enough
Auto generated code isn't memory efficient
Hardware specific drivers like PWM (Pulse Width Modulation) needed to be coded in C anyway
Providing a complete solution from plant modeling to embedding the control code on a microprocessor has always been the aim of Peter Darnell. He wanted to provide control engineers a tool where they could achieve this 100% graphically without the need of writing a single line of C-code. That's why he named his company VisualSolutions and the product VisSim.
In August of 2014, VisualSolutions became part of Altair, and broadening our offering to embedded system development. When talking to VisSim users they unanimously point out the superior code generation capabilities of VisSim in terms of compactness, performance and readability, and the deep support of the Texas Instruments C2000 processor family. Steve Stuber, Controls Engineer at PVT Research, a company specialized in replacing diesel engines by electric drives, shared with me, "VisSim allows me to get something up and running within hours."
VisSim's unique support of common on-chip peripherals, including PWM, quadrature encoder, event capture, CAN, I2C, serial, SPI, ADC, and GPIO, allows a faster and deeper coverage of commercial actuators, sensors, and communication buses.
The controller subsystem can be scaled, fixed-point, while the plant is full-precision floating point. You can perform off-line simulation to verify, debug, and tune your algorithms, providing detection and resolution of typical low-cost controller issues with precision loss and overflow before ever generating code.
Once the model is verified, you can generate production code for the controller and download the code to the target DSP. VisSim Hotlink technology lets you interactively change controller gains on the target from VisSim, and observe on-target signals, like phase currents and internal controller terms in VisSim digital scopes.
Now, if you are a product designer or a structural engineer, I've probably lost you with the last two paragraphs. So, to get a better feeling on how you could be using VisSim, I encourage you to watch this 3 minute video: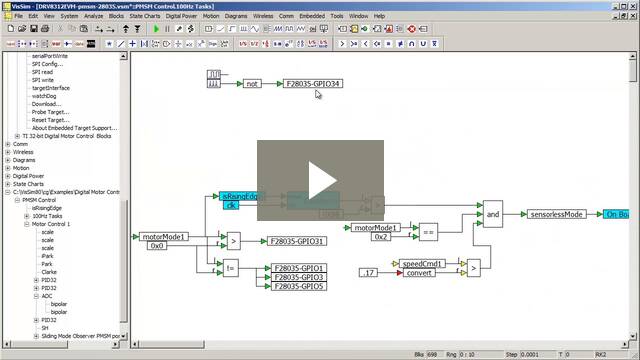 Senior Vice President for Math & Systems - HyperWorks
at
Altair
Michael joined Altair in 2006, and is currently the Senior Vice President for Math & Systems at Altair. He has over 25 years of experience in simulation driven development gained in multiple roles in research institutes, product development organizations , and solution providers. In his current role he oversees Altair's new offering for the Math and System market.
He holds a masters and PhD degree in mechanics from the Technical University of Darmstadt.
Latest posts by Michael Hoffman (see all)