Tips & Tricks #1108: How to Identify ALE Material Distribution from HyperView
Demonstrate how to setup solver input to identify ALE material distribution in HyperView.
View and Download Tips & Tricks #1108
Tips & Tricks #1109: Quickly Create Individual "Parts" for Several Solids
Quickly create individual Inspire "part" collectors for several solids that exist within one part.
View and Download Tips & Tricks #1109
Learning Spotlight – Ribs Creation in HyperMesh 13.0
In this short video, Erik Larson explains another great feature introduced in HyperMesh 13.0.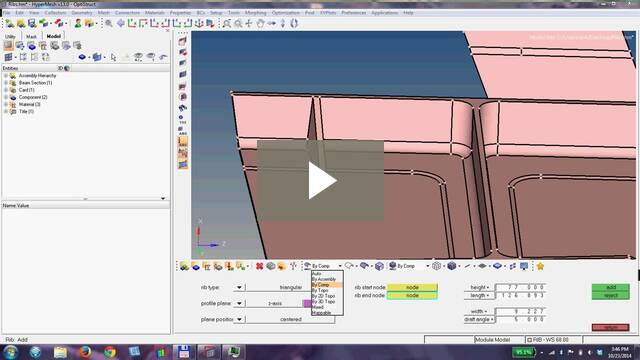 Dev Anand joined Altair in 2004 and is currently the Senior Manager for Global Initiatives at Altair. He has over 16 years in the PLM industry focusing on global initiatives, business development, global customer support, program management, product design development and people management skills. He holds a Bachelor of Mechanical Engineering Degree from M S Ramaiah Institute of Technology, India, and a Post Graduate Diploma in Business Administration with Operations from Symbiosis, India. He is also Six Sigma Green Belt Certified from General Electric Power Systems, who has been trained to be Project Management Professional from PMI, USA and also attended the Leadership program.
Latest posts by Dev Anand (see all)